Well, here we are.
After months of waiting, planning and definitely-not-renegotiating-the-CBA, the 2021 NHL season is set to kick off on Jan. 13, 2021.
This is going to be one of the most bizarre and exciting seasons of the century. With taxi squads, Coronavirus testing, the upcoming expansion draft and all-new divisions alignments, everything we thought we knew about certain teams and players will be put into the blender.
While I'm not one of the advanced analytics wizards like The Athletic's Dom Luszczyszyn, I'm also not a straight-up eye-test guy either. These predictions usually ride that middle line of logic and nonsense, and boy is it a bumpy ride sometimes.
So without too much preamble, here are 21 bold (and probably wrong) predictions for the 2021 NHL Season!
1. Artemi Panarin will win the MVP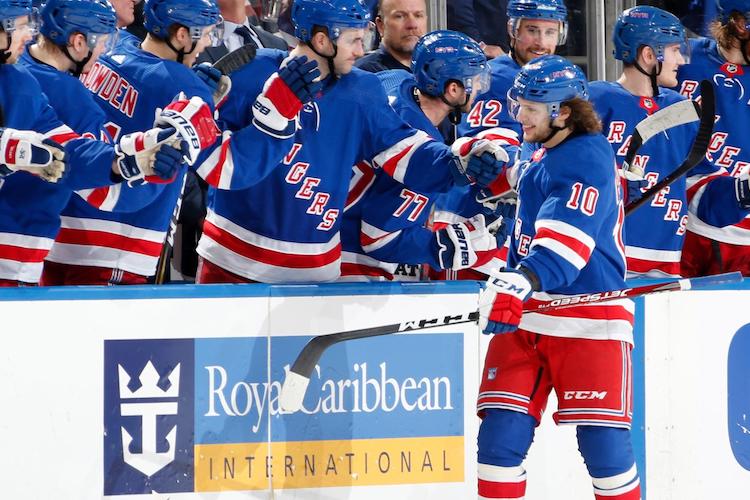 I'm so sorry if you had to talk hockey with me at any point between the Hart trophy nominations and the NHL Awards because if you did it's likely I cornered you on behalf of the "Panarin 4 MVP" lobby. What he did last season while playing with linemates nowhere near his abilities what nothing short of remarkable.
This season, he'll have more help in the form of #1 draft pick Alexis Lafreniere. That won't mean that the New York Rangers will magically become a playoff team, but it could mean another god-like season. Nathan MacKinnon has Mikko Rantanen. Connor McDavid has Leon Draisaitl. Panarin has Jesper Fast, Ryan Strome and now Alexis Lafreniere. If all other things are equal at the end of the season, which player do you think had the most work to do?
Panarin is my favourite player to watch in the league, and frankly, he should have won the MVP last year. If he stays healthy, expect a 70+ point season from the Breadman.
Unrelated, but Panarin is on my team in NHL 21 and he's won me enough games to gain my IRL trust.
2. No players will hit 75 points
75 points in 56 games is a 1.34 PPG pace. Last season, six players averaged better than that (McDavid, Draisaitl, MacKinnon, Panarin, Pastrnak and Malkin.) In a shortened season with more back-to-back games than I can count, I don't think a single player will.
I don't think we'll see anything close to the NBA's style of load management, but it seems likely that NHL players will take their share of bruises due to playing so many games so close together. That may restrict a player like McDavid or MacKinnon who will be looking to be healthy to lead their teams on deep playoff runs.
3. Fleury will regain the starting job in Vegas
Fleury has made it clear he doesn't want to leave Vegas. This means he's going to fight all season for this, and once he gets the chance to steal a few games from Lehner, he'll capitalize and take back the starting job.
4. The Flyers will win the East Division
This division is pretty loaded, but after the underappreciated season the Flyers just had, I think they're the division's best bet to knock the Bruins off their pedestal. The other teams in the East that have been perpetual contenders just aren't as potent as they once were.
The Capitals are a great team if you rewind the clock a couple of years, despite as awesome as them signing Zdeno Chara is. The Penguins signed Cody Ceci this offseason. The Islanders still haven't signed Mat Barzal which doesn't give me much faith in how the rest of their season will go, the Rangers aren't ready yet, and the Devils and Sabres aren't even in the conversation.
If anyone is going to knock the Big Bad Bruins from the throne, it's going to be the Flyers.
5. Tim Stützle will score more points than Quinton Byfield
Tim Stützle impressed everyone during these past World Juniors, and the more I see from him, the more I'm convinced he'll be able to translate that at the NHL level. That's not to say Byfield will be a bust this year, it's just that Stützle's stock seems to have risen higher at this moment. But don't worry Kings fans, Byfield should be a force for years to come.
I'll even expand this prediction. Stützle will score between 30-35 points, and Byfield will have between 20-25 points.
6. Jack Hughes will lead the 2019 Draft Picks in points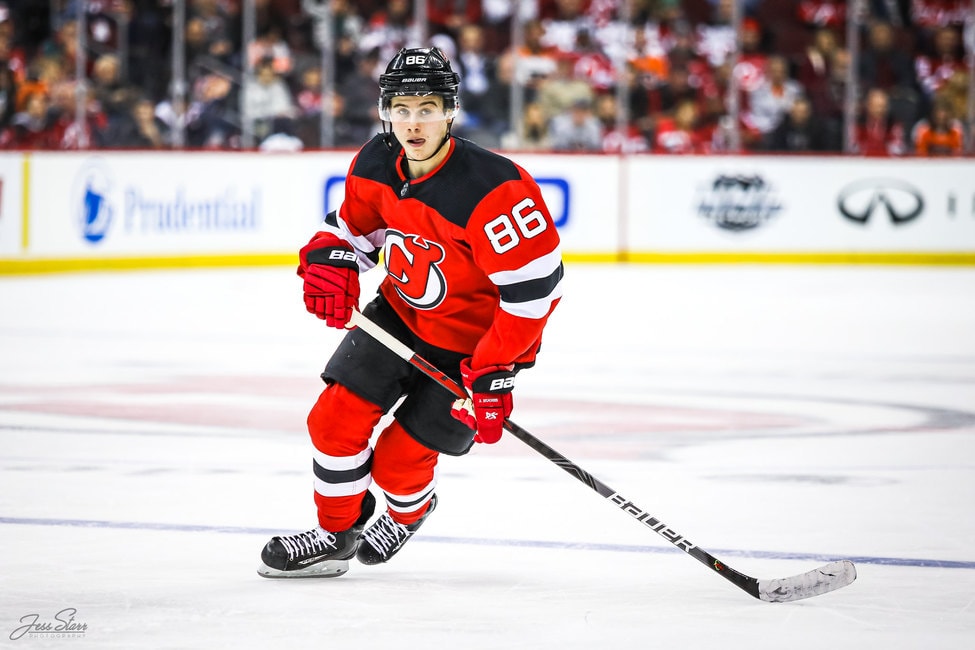 Considering only four 2019 draft picks played in the NHL last season, there's still a lot of talent that we have yet to see on the big stage. How many points will guys like Trevor Zegras, Alex Turcotte, Alex Newhook, Raphael Lajoie, and Dylan Cozens have once they crack their respective rosters?
I'm high on this draft class overall and believe that many of these players will become cornerstone pieces for their teams.
That being said, none are as important to a franchise as Hughes is for New Jersey. Without Hughes, the Devils are left with Nico Hischier (who is very underrated) and not much else.
Hughes is so much better than his rough rookie season showed. His speed and hockey IQ remain elite, even if he struggled to translate them to the big stage. His zone entries were elite, even if he couldn't drive to the middle of the ice as much as he needed to do to score tough points. With a year under his belt, I'm predicting a massive leap in production.
Zegras may end up being the best player to come out of this draft class if the World Juniors are any indication, but this season, Hughes will lead the class of 2019 in points.
7. Joe Thornton will finish the season on the fourth line
I'm not buying the whole First-Line Joe thing that the Leafs are trying to push. Thornton is a legend, but at this point of his career, having him be a locker room guy and power-play specialist is the best use of his powers.
8. Leafs will lose to the Bruins in the playoffs
Dear Universe,
So many nice things have been taken from us this year. I beg you to give us just one teeny-tiny-itty-bitty little victory that the whole hockey world can unite around and cheer for.
Sincerely,
This idiot.
9. Ovechkin will sign an extension with the Capitals
Another not so bold one, but considering Ovechkin's age, expiring contract and outspoken desire to finish his career in Russia, this offseason makes sense for him to leave.
The Great 8 can still catch Gretzky's goal record, despite the lockouts, pandemics and injuries that have robbed valuable games from the sport's all-time greatest scorer (I said it). The Capitals owe their relevance in the past 15 years to Ovechkin's pure goalscoring prowess and iconic one-timer. They'll reward him with a *consults Magic 8-Ball* 3-year x $24 million deal.
10. The Minnesota Wild will finish dead last
The Wild are going into this season with a center depth of Marcus Johansson, Joel Eriksson Ek, Nick Bonino, Nick Bjugstad and Victor Rask. All of these guys are serviceable bottom-6 forwards, but how many are capable of scoring 20 goals? Add that to a goalie tandem of Cam Talbot and Alex Stalock, $27 million in cap space becoming available this offseason, and we have a team with the words "Tank" written all over it.
11. No coaches will get fired during the regular season
"No Mr. GM you don't understand, it was a shortened season, it wasn't my fault! Next year the boys will be ready to go! I promise it was just a fluke, give me another chance!"
12. Denis Gurianov will lead the Central Divison in goals scored.
I love Gurianov. The fact that he scored 20 goals while playing less than 13 minutes a night last season is impressive enough. And after an impressive playoff performance, the Stars should not repeat this tactic and finally unleash the 23-year-old.
This is perhaps the lowest percentage prediction on my list considering the Central is armed with players like Steven Stamkos, Brayden Point, Sebastian Aho, Patrick Kane and Andrei Svechnikov. Gurianov is just too much fun to ignore, and this is me putting my money where my mouth is and officially putting some (verbal) money on his success.
13. Seattle will poach a major hockey exec or coach
Seattle is doing everything right, especially in the hiring process.
After announcing Jason Botterill as an assistant GM, I get the feeling the Kraken are looking to snag a big name exec to join their team. Don't be surprised when it happens, because while their roster may not end up being as good as Vegas' was, their management will be one of the best's in the league from Day 1.
Will the Kraken go with an unknown coach from the AHL, college or Europe? If any team was going to do it, it'd be them. But if they stick with a safer option, could a coach with an expiring contract like Jared Bednar or Rick Tocchet be convinced to join the expansion team?
14. Dougie Hamilton will win the Norris trophy
The Carolina Hurricanes don't have the money to resign their best defenceman and that's a fact. So for the pending UFA, this season is essentially a try-out to show other teams just how good he can be.
And Hamilton is good. Very good.
Since arriving in Carolina, Hamilton has established himself as one of the premier defenders in the league. He may not produce as much attention as a Victor Hedman or Roman Josi, but his skill is at the level. This season, everything will finally fall into place and he'll claim his first Norris trophy, and likely a massive contract.
15. Taylor Hall will outscore Jack Eichel
Taylor Hall in a contract year? I don't think there's anyone who's more anxious to put as many points as possible on the board as the former league MVP.
The 1-year x $8 million "prove it" contract that Hall signed this offseason will give him the chance to show he can still be the top player on any team he's on and finally command a contract with a significant term. That little bit of motivation should go a long way, especially in Buffalo.
16. Josh Anderson will score more points than Max Domi
Okay so maybe this one isn't so bold. But its implications could be.
Columbus GM Jarmo Kekäläinen has not exactly delivered sunshine and rainbows for the Blue Jackets, but he hasn't tanked them into the ground either. Instead, we now have a perpetual #8 seed that doesn't look close to contention anytime soon despite some good pieces.
The Anderson-Domi trade was the biggest of the offseason for both teams, but Habs GM Marc Bergevin's job security isn't in question. Kekäläinen's is. If Domi can't deliver a near PPG season for the Blue Jackets, and Anderson manages to refind his scoring touch with the Habs, this could be the straw that breaks the camel's back for the Finnish GM.
17. Chicago will make the playoffs.
Let's get crazy with this, and nothing's crazier than thinking the Blackhawks stand a chance in the Central Division. But damn it, what's not to love about one last kick at the can for Jonathan Toews, Patrick Kane, Duncan Keith and Brent Seabrook.
To do this Chicago will have to ask a very important question: "Do you even need even reaaalllyyyy need a goalie to win games? "
And to that they shall answer: "What's a goalie?"
18. The Ducks will trade Ryan Getzlaf
All the ingredients for this to happen are in place. Getzlaf is in the final year of his eight-year deal. The Ducks are a pretty abysmal team looking to hoard draft picks. All the Ducks have to do is put the food in the pot and stir.
I'll go a step further. Somehow, somewhere, with a dash that Disney magic, the LA Kings will pull this trade off and snag the Ducks' captain.
19. San Jose doesn't get better
Many writers are predicting a return to form for the Sharks. And I can't really blame them. They vastly underperformed last season and have the star power to inspire hope.
But the issues that plagued them last season are all present this season. Ageing stars, no real young talent and very questionable goaltending. Can Erik Karlsson and Brent Burns have comeback seasons? Sure. Can they carry the Sharks back to contention? I have doubts.
20. No less than 5 game get cancelled due to COVID-19
No major North American league has managed to hold a season without positive COVID cases. I believe the NHL will be forced to cancel at least 5 games because of this.
Not postponed, not rescheduled, outright cancelled. The Stars will likely have to push back their home opener, so how long do we expect it to be before we see some games cancelled.
21. No team will be punished for going over the cap
As of writing this, there are ten (10!) teams over the salary cap. With less than a week before the season starts, it seems extremely unlikely that most of these squads (including Tampa who's currently $15 million over the cap!!) will not be able to become cap compliant.
So what happens now?
With a third of its teams facing penalties, including some of its biggest markets, the NHL will be forced to waive its cap penalties to not cripple contending teams with fines or loss of draft picks.
–
So does are my predictions for the season. If I'm honest I don't have much faith in most of these, but I should set some sort of goal for myself with this, so anything above 12/21 correct will be seen as a massive win.
Follow me on Twitter for more nonsense @Matthew_Coyte.